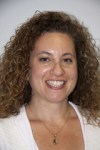 Orly Rumstein McKean - Ph.D., C. Psych.
ICEEFT Certified EFT Supervisor
Dr. Orly Rumstein McKean is a certified EFT supervisor and a Registered Psychologist. She provides individual supervision to pre-doctoral graduate students and psychologists under supervised practice with the College of Psychologists of Ontario. As part of her supervision style, Orly is committed to creating a learning environment that is safe and driven by the current level and needs of her supervisees. She believes that learning and professional growth are best achieved when developing therapists are able to reveal where they struggle most and are open to new ways of approaching those struggles with their clients.
Orly also offers the Hold Me Tight Program by Sue Johnson to couples who want to learn to enhancement their relationships. This is conducted with small groups of couples. She enjoys the combination of teaching but also facilitating the growth in relationships in an experiential way. Once again, creating a warm and safe learning environment is an essential component of her approach.
Orly joined the Ottawa Couple and Family Institute after completing her doctoral degree in Clinical Psychology from University of Ottawa in 2004. In her private practice, she works with both individual adult clients as well as couples. To ensure she stays true to the Emotion-Focused Therapy model, to maximally assist her clients, and to continue to grow as a professional Orly engages in peer supervision on a weekly basis. This allows her to provide feedback to colleagues regarding difficult cases, ethical dilemmas and tricky professional issues. It also ensures secure professional relationships upon which she can call when she runs into similar matters.